Deluxe Undermount Bar Charging Kit W/ LED Smart Pucks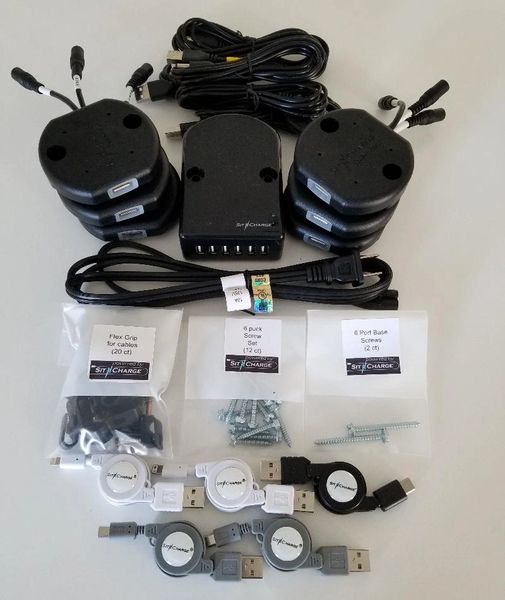 Deluxe Undermount Bar Charging Kit W/ LED Smart Pucks
The Sit N Charge Deluxe Bar Charging Kit includes our newest Smart Pucks. These pucks accomplish several things.
-They have LED lit ports (see bottom of picture) so they promote themselves and make it easier for your customers to see and use the new service you provide.
- They are 100% compatible with all USB charging devices included Samsung Tablets.
- The built in Magic Adapter increases the charging rate and eliminates Data lines. Your customers do not have to worry about juice jacking and their information being compromised.
- They eliminate the liability you would have from putting 110v outlets accessible by  customers as they drink at your bar.  You only expose your customers to a harmless 5v (same as a flashlight).
This kit easily covers up to 12 foot of bar space. 

Install Kit Includes:

20 cable clamps (replaces zip ties in picture)
2 Base mounting screws
12 Puck screws
1 10 foot power cord
2 Retractable Apple charging cables
2 Retractable Android charging cables
1 Retractable Type C charging cables
*Call 702-478-0007 with any questions. We will help customize a charging solution for your bar or business.